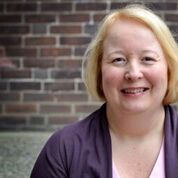 Krisha Arbour graduated from Sutherland Chan in 1995 with a diploma in massage therapy adding to her degree in psychology from McMaster University in 1991.
She has been a practicing registered massage therapist since graduating, focusing on the treatment and prevention of injuries, treatment of orthopedic and neurological conditions and for overall well-being.
Krisha also spent 10 years as an educator of massage therapy at a private college teaching massage techniques. Her kind demeanor and thoughtful mentoring has made her popular with the next generation of therapists across the province. In 2017 she received a second degree form Ryerson University in Health Administration which she obtained while working full time as a massage therapist and as a massage therapy educator. She uses a variety of modalities in her treatment including deep tissue massage, trigger point therapy and craniosacral therapy.
Krisha can be reached at krisha@nbmt.ca or via the contact form below.